The latest custom build from Timberidge. A beautiful 2800 square foot 2 story home with stone and siding showcased on 50 acres north of Uxbridge. This home boasts 3 garages with a total of 1110 square feet and an incredible view that must be seen to appreciate it.
Custom office renovation for D.G. Smith Insurance Brokers in the historic downtown core of Uxbridge Ontario.
DESIGN / BUILD CUSTOM HOMES, ADDITIONS & RENOVATIONS.
Call Timberidge for a Free Consultation. 905.862.8488
TIMBERIDGE CARPENTRY: Serving the GTA & Surrounding Areas
ABOUT US:
If you are considering building a new home or renovating your current home, our family business, Timberidge Carpentry, is the one to call first.  For over 15 years, our building knowledge and honest customer service has made us the number one choice for new home builds and renovations. We began building homes in Uxbridge, ON to fit the needs of local customers and quickly expanded our reach to serve the demands of surrounding communities. We are passionate about our work and dedicated to providing custom solutions for your home renovation or build in the Greater Toronto Area and Durham Region.
OUR PROMISE:
Timberidge Carpentry works closely with our clients to bring their visions of their dream home or renovation to life.  All our homes are built to the highest standards; our team consists of only the most qualified and experienced trades in the business, to ensure the best home building experience possible for our clients.
OUR WARRANTY:
Timberidge Carpentry is a registered builder with Tarion Warranty Corporation and an Energy Star builder, which guarantees that your new home will come complete with a warranty and be built to Energy Star requirements.
Give us a call today to set up an appointment to discuss your renovation or new construction project. We service clients across Northern and Central Ontario, including Toronto, Uxbridge, Port Perry, Gravenhurst, Muskoka, Whitby, Ajax, Newmarket, Aurora and many more.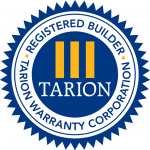 Working with TIMBERIDGE

Contractors & Construction
Professionals With Over 50 Years Combined Experience!
Get A Quote
We are just finishing off a reno with Timberidge Carpentry and we are just blown away by the
level of craftmanship, accuracy, knowledge and patience these guys bring to the table.
The cherry on top is that they are ahead of schedule and under budget.
We reached out to 5 local contractors. One was a no show for their walk through and one
ended up never submitting a quote. Two of the contractors were fairly close in price. One was
astronomically higher and they left out major components such as countertops and
backsplashes. They also quoted MDF cabinets with wood doors for double what Timberidge's
cabinet maker did for us in solid oak and maple.
On budget and on time!
As a realtor, I have seen so many finished basements through the years. I have to say a lot of them weren't properly finished. That's why it took me a while to find the right company to get the job done for me. Fortunately, I came cross a home renovated by Timberidge Carpentry. I was very impressed by the quality of finishing. After interviewing a few companies, I hired Mark and his team. They got the job done on budget and on time. Now, I am so happy with my finished basement and feel so comfortable to give out their name. Thank you Mark and your team for a job well done! Keep up the good work. I will see you again for my future projects.
Quality that is hard to find!
Timberidge is quality that is hard to find and attention to detail that they truly stand behind. I took notice that other builders, who are family and friends all unanimously complimented the craftsmanship of my new home, the attention to detail, the cleanliness of site. I also noticed the common theme amongst the subcontractors I saw throughout the project; they always loved working on Chris and Andy's jobs because of the quality and the organization. For all the quality that Timberidge delivers while on the tools it is matched by excellence in managing the construction process and subtrades. Timberidge sets a high standard which can only come from a sense of pride, these guys love what they do, and they do it well.